Sorry, now sold
Watchmakers lathe with X + Z axis compound cross slides
Manufacturer is unknown – I cannot see any maker marks on this item
Cross slide allows fine movement in X and Z axis.
Cross slide also rotates in each plane.
Powered by 12V DC motor – power supply not included.
Selection of collets have a 30TPI thread to them – possibly 9/32″ x 30TPI. As well as the collets to grip a round bar, there is a small face plate, a boring tool holder and a couple of milling type cutters.
The tool post is adjustable and takes a 1/4″ square tool.
The T-slots on the top of the cross slide are about 0.220″ wide.
There is no tail stock with this item – unclear if there was one originally. The nut from the collet holder on the headstock is also missing, although a number of the collets don't look like they would work with a nut to hold them.
Collets are secured via a drawbar.
The thread to the headstock is 20TPI, looks like it might be a taper thread going from 0.83″ down to 0.8″ – might be possible to mount a suitable chuck onto it?
Mounted on solid wooden base dimensions 10″ x 15″.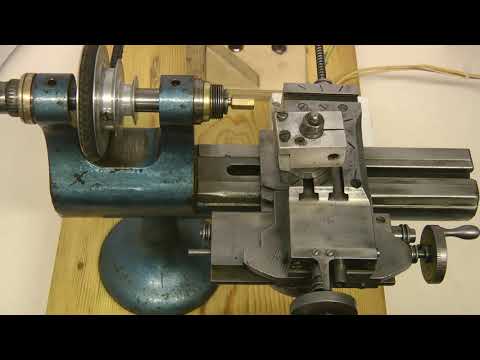 20190104WatchMakersLathe – YouTube
Video will open in a new window
Using the eBay App? Paste link into a browser window: